EG Helps Roncalli Catholic Find Its True North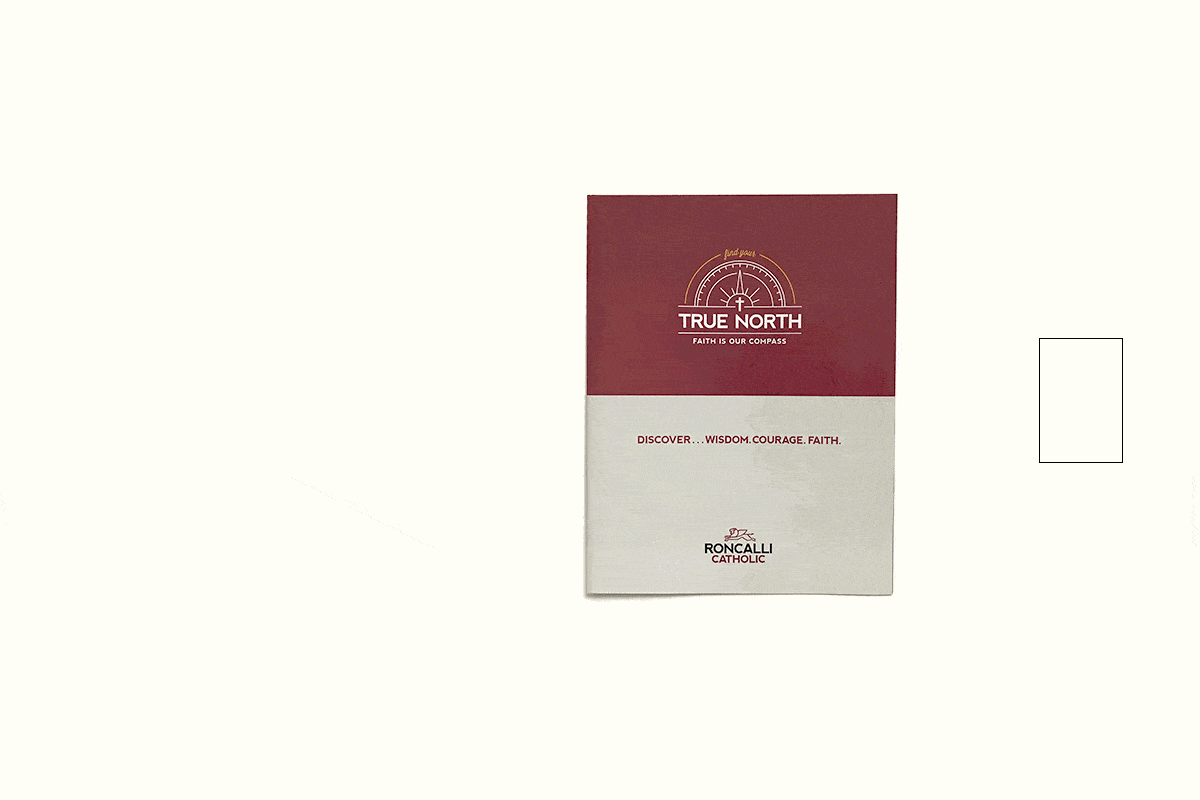 A Refresh Can Help Clarify and Enhance Your Brand
Sometimes a new perspective can make all the difference. And when it comes to your brand, a fresh viewpoint can serve to clarify your message and offer innovative strategies to remind your constituency and customers that your organization is very much in the game and continuing to thrive and grow.
Challenge
For years, Roncalli Catholic High School officials battled the misconception that theirs was a "fall back" school – one that didn't quite measure up to other private schools in the area.
To help them overcome that label, EG Integrated was asked to help the Roncalli Catholic team clarify their brand, enhance their marketing strategy, and educate potential families about the school's unique programs.
Solution
We began with brand research. Focus groups with faculty, staff, parents, and alumni and student surveys helped us identify important themes that would serve as the foundation for our recommendations. Through our research, we discovered that key players were incredibly proud of new programming designed to help every student find success – during and after high school. For example, in partnership with Metropolitan Community College, Roncalli Catholic's Career Academy targets students interested in pursuing an occupation in the trades. The Health Sciences Academy, in collaboration with CHI Health, gives students a hands-on opportunity to work in a hospital setting for four days a week.
Roncalli Catholic is also the only high school in Nebraska that offers the Benilde Program. This one-of-a-kind program helps students with learning challenges achieve their full potential.
With all of that in mind, we recommended a campaign built on the theme of discovery – emphasizing that faculty and staff members are committed to helping students find a unique path toward a successful future.
Our team created a map that folds out to poster size for a primary recruiting piece and delivers key messages about the school. An accompanying tri-fold brochure details each program and explains the options that are available to Roncalli Catholic students.
We also recommended that they invest in a comprehensive programmatic digital media campaign for four months (October – January), which included digital display and mobile advertising, social media, and Pandora.
Finally, we introduced the Roncalli Catholic team to a marketing automation software and taught them how to capture and utilize data generated from the digital ads. They are now using this type of tool to customize communication with prospective families and deliver messaging that they hope will convert to enrollments.
Result
Roncalli Catholic's investment in its brand was rewarded. The digital media campaign was extremely successful in driving traffic to the school's website, exceeding set goals within the first two months. Additionally, Roncalli Catholic was the only Catholic high school in Omaha that saw an increase in attendance at their placement exam in January, typically an indicator of future enrollment. Before the pandemic began, Roncalli had enrolled a class of 107, double the size of the graduating class. The school ended up with slightly fewer enrollments but still added more students to their freshman class than previous years.
Roncalli also saw success using marketing automation tactics to capture the traffic from their digital ad campaign and drive them down the admissions "sales" funnel and allowed them to easily ID their top 200 prospects based on their lead scoring.
Finally, while hard to quantify, the buzz about Roncalli Catholic grew last year due to the school's investment in itself. We heard from numerous constituents who said their non-affiliated friends saw the school's ads and heard about the good things happening at the school. Increased inquiries, requests for school tours, and attendance at Open House confirmed increased visibility in a crowded market. In its second year, the Find Your True North campaign continues to be utilized by Roncalli Catholic High School.
"Working through the re-branding process with EG Integrated was a very helpful experience that put us on a stronger path to recruit new students," said Ann O'Connor, former Roncalli principal. "It pushed us to think more strategically and helped us develop a brand platform that truly represents Roncalli Catholic High School. I am grateful that we had that solid foundation before the pandemic hit as it made our recruitment efforts in a very difficult year a little less stressful."