It's Worth the Effort to Refresh Your Brand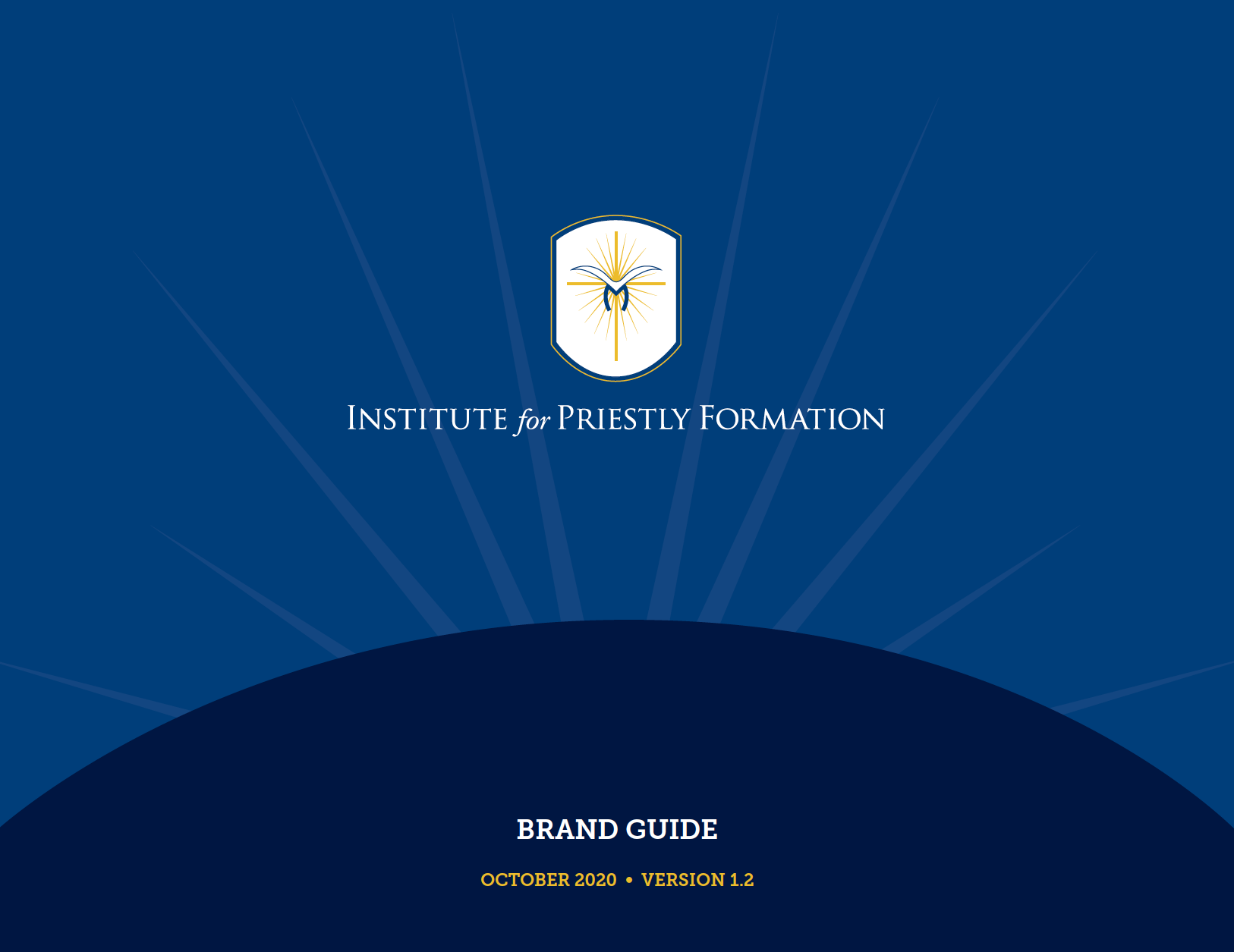 Taking the time to update your organization's brand and implement changes can seem daunting. It's easy to put it on the back burner when there's so much to be done. And for a non-profit, that can be even harder when budgets are limited, and staff is juggling multiple responsibilities. Implementing strategic initiatives can feel like a luxury.
For one Omaha-based nonprofit, the Pandemic provided an opportunity to update its branding. Since 1995, the Institute for Priestly Formation has been a resource for preparing and renewing seminarians, priests and bishops, by providing them with ongoing and lifelong formation through training programs and retreats. In March 2020, the organization's offices closed, employees worked from home and the in-person development programs offered throughout the country were put on hold.
However, IPF's leadership team took advantage of the disruption by implementing components of a recently completed strategic plan. Part of that plan included updating IPF's logo and brand to align with its mission and vision more closely.
IPF reached out to EG Integrated to develop a full brand kit that clarified and defined brand standards set out in the strategic plan; create a brand platform and messaging with mission, vision and values and refine and elevate its logo which was not well recognized or consistently executed. The brand guide spelled out how to correctly use the upgraded logo with clear guidance for producing digital and print collateral. Finally, EG created a postcard and bi-fold brochure templates that could be easily updated by the IPF marketing team.
"The EG team took to heart what our mission is and what is important to our organization. They obviously read our strategic plan and had a good feel for our goals and that we wanted something that reflected that," said Mary Buttell, IPF's Foundation director. "It was just so collaborative."
Following completion of the brand guide, EG's team provided six months of marketing and graphic design consulting, working with the recently hired Communications and Marketing coordinator to assist her in developing and deploying a comprehensive marketing plan using the new brand guide.
Mary said that one of the best things the team received from the brand refresh is the re-design of their publication, "Hearts on Fire." Mary said the training that Anna, the communications coordinator, received is evident in the quality of the magazine. She has received praise from readers who have received the magazine and renewed their giving thanks to the quality of the magazine and the stories it tells. "We know people are reading it," she said. So much so that they have Increased publication from two to three times per year. "People really like the magazine and I think it's because of the branding. It gave everything a defined structure that we didn't have before."
Showcasing Updated Brand in Capital Campaign
In 2022, IPF again reached out to EG's team to create a case statement for a new building campaign. The organization had recently purchased an office building in Omaha to house its headquarters. IPF's previous office was located on Creighton University's campus but the space was being repurposed by the university. In addition, the organization's long-term strategic plan identified a need for a more central location with space for additional staff, meetings and a 35-seat chapel. Thanks to some generous donors, the initial down payment for the building was covered, but the organization needed to raise the remaining $1.8 million.
EG Integrated created a campaign brochure that was mailed to donors. Built around the campaign theme of Living Stones – Building a Foundation for the Future, the six-panel brochure with a pledge card, demonstrated the IPF's case for support in a succinct and cost-effective format that was easy to mail and demonstrated the organization's commitment to responsibly using its donor's money.
Again, the response to the brochure was positive and IPF is close to meeting its campaign goal. Donors responded positively to the brochure's professional – but not expensive looking – and clean design. Mary said IPF has received more donations from outside of Omaha which she believes is a recognition that IPF truly is a national organization.
Mary said that taking the time to upgrade IPF's brand and create a guide that ensures consistency has been well worth the effort and has played out in the success of the campaign brochure and the magazine. "It's been an opportunity to have our brand recognized more fully and to be seen as having our own identity."