Employee Spotlight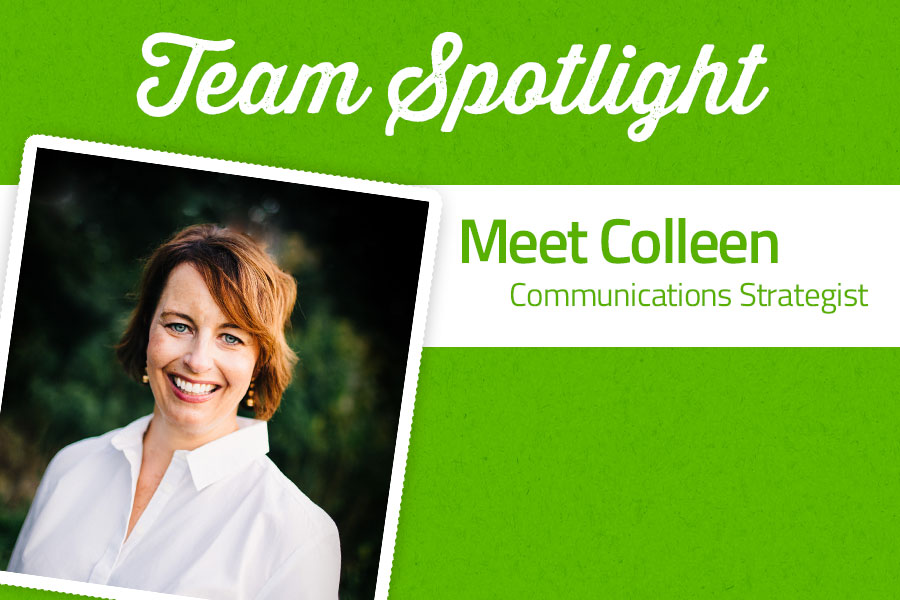 Colleen McQuillan Johnson
Communications Strategist
Hometown
Cedar Rapids, Iowa
How did you get into the marketing business?
A love of the written word–books, newspapers, magazines–I've always loved to read! English and literature were my favorite subjects in high school and I was the editor of my high school yearbook. Despite a short daliance with Pharmacy school, I majored in journalism with a focus on public relations. I even had a column in my college newspaper! After college I worked for a non-profit doing special events and development, marketing communications and media relations.
What's the favorite/toughest part of your job?
Learning and writing about new industries/businesses/subjects and working with great people is always fun and interesting to me. Trying to work through a creative block on deadline can be a challenge. But with enough coffee, I somehow manage to move through it.
What was your first job?
Well my very first job was babysitting at age 11 (yikes!). I started working for a small pharmacy in my hometown at age 13. I kept with it all through high school and college, working over the summer and on break. I thought I was going to be a pharmacist for a long time, but I realized that I really didn't like chemistry, or math for that matter!
What's the best advice you've ever received?
Life is uncertain. Always eat dessert first.
Tell us about your family.
My husband, Chris, and I have five children between us. Sort of like the Brady Bunch! His daughters live in Chicago and his oldest just had a baby girl. My two oldest daughters live in New York – one works in the film industry and the other works for a digital marketing firm – and my youngest son is graduating from Iowa State in May with a degree in graphic design.
What's something you would like to accomplish?
I want to start playing my guitar again and improve my skills. And I want to learn a new language (probably Spanish) so I can put it to good use when we travel.
What's something no one knows about you?
If no one knows, I'm not telling you guys!
What do you like to do when you're not working?
I love to read. I volunteer for a refugee organization for women and we travel quite a bit since none of our children live in Omaha. We also love to hike in national parks.
What are your pet peeves?
Too many to list here.
What's your favorite vacation spot?
I have many, but I love the coast of Maine and Ireland (they are a lot alike!)
What's your favorite movie/book/TV show?
I don't have any one favorite. My list of favorite book(s): To Kill a Mockingbird, A Tree Grows in Brooklyn and I enjoy books by Wallace Stegner, Amor Towles, Ann Patchett and Louise Penny, to name a few. LIke the rest of the world, Ted Lasso makes me smile. Succession is a guilty pleasure and my most recent favorite movie is either "Belfast" (I'm a pushover for anything that takes place in Ireland) and "Everything, Everywhere, All at Once."